ART STEVENSON & HIGH WATER
Great Bluegrass Music
"Art Stevenson IS Bluegrass in Wisconsin!" --WPR Wisconsin Life

Read the article about Art Stevenson on the Wisconsin Public Radio website!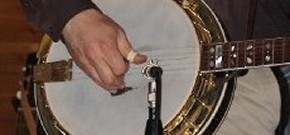 Here are some of our favorte bluegrass related links.
Bluegrass Orginazations:
SWBMAI Southern Wisconsin Bluegrass Music Association, Inc. Bands, events, jam sessions, concerts, and other bluegrass news in Wisconsin.
MBOTMA Minnesota Bluegrass and Old Time Music Association. Lots of links to midwestern bluegrass events, festivals, bands, etc.
BBMA The Badgerland Bluegrass Music Association. Lots of info, concerts, and jams.
Northern Indiana Bluegrass Association Bluegrass festivals, concerts, jam sessions, and lots more.
SPBGMA Society For Preservation Of Bluegrass Music In America. Lots of bluegrass festivals in the midwest.
Musicians and Friends:
Fox on Main-Stevens Point Reopening the Fox in downtown Stevens Point, WI is more than an opportunity to restore an old building. It is a challenge to invest in our community.

Audi Blaylock and Red Line means bluegrass! If you don't already know, go find out for yourself.
Joe Mullins and the Radio Ramblers. 2012 IBMA Emerging Artists of the Year
Tommy Brown & County Line Grass. The very best in traditional, mountain style bluegrass.
High 48s Minnesota's rising bluegrass stars and a big favorite at Bluegrass in the Pines.
Sloppy Joe Neo-old-time string band music, great to dance to!
Horsehoes and Hand Grenades Hard driving string band music. Wherever they go, the party follows.
Monroe Crossing Some of Minnesota's best Bluegrass talent.