Art Stevenson
and High Water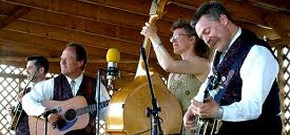 Email us for more information on show dates and schedules, or call 715-884-6996.
2014 High Water Appearances___________________________________
Jan 25 Central Waters Brewing, Amherst, WI 16th Birthday Party
Feb. 7-8 Swamp N Grass, Elkhart Lake, WI
Apr 5 Spring String Gathering, Baraboo, WI
Apr. 3 Art Stevenson - Physics of the Harmonica - SHINE Conference, Laird Room,
DUC, UW-Stevens Point, 9:05AM
Apr. 25 Leo & Leona's Tavern, Hwy 33, Bangor, WI 7:30PM $10 admission.
Also appearing Matt Ray and Those Damn Horses
Apr. 26 Ladies of Bluegrass 7th Annual Festival, The Watering Hole, Green Bay, WI
May 10 Performing Arts Center, Pittsville, WI 7:30 PM
May 16 Art Stevenson leads the 2014 Mass Guitar Incident, downtown
Stevens Point, Wis. 7:30 PM Bring your guitar!
May 28 Northland Sports Bar & Grill, Northland , WI. 7:30 PM
June 13-14 Northwoods Bluegrass Festival, Ladysmith, WI
June 16 Winchester Academy Presentation lecture series (Art Stevenson, presenter)
Waupaca County Library, 6:30PM Topic: Bluegrass Music Roots and
Branches
June 21 Charlotte Bluegrass Festival, Charlotte, MI
July 4-5 PEI Bluegrass and Old Time Music Festival, Rollo Bay, PEI
July 11-12 Viroqua Bluegrass & Gospel Fest, Viroqua, WI
July 19 Acoustic Fest, Manitowoc, WI
Aug. 15-16 SEMBA Bluegrass Festival, Houston, MN
Aug. 21-23 5th Annual Bluegrass In The Pines, Rosholt, WI

Oct 11 Private event, Nelsonville, WI
Dec. 4 McMillan Library Concert Series, Wisconsin Rapids, WI
2015 High Water Appearances___________________________________
Jan 24 Central Waters Brewing, Amherst, WI 17th Birthday Party

Feb. 13-14 SwampnGrass, Elkhart Lake, WI
May 9 Performing Arts Center, Pittsville, WI 7:30 PM
June 12-13 Northwoods Bluegrass Festival, Ladysmith, WI
July 11-12 High Mountain Hay Fever Bluegrass Festival, Westcliffe, CO
Aug. 27-29 6th Annual Bluegrass In The Pines, Rosholt, WI