ART STEVENSON & HIGH WATER
Great Bluegrass Music
"Art Stevenson IS Bluegrass in Wisconsin!" --WPR Wisconsin Life

Read the article about Art Stevenson on the Wisconsin Public Radio website!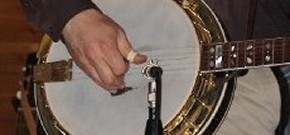 Email us for more information on show dates and schedules, or call 715-884-6996.
2020 High Water Appearances
2022 marks 29 years in the music business for Art Stevenson & High Water!
Here is the current list of 2022 shows...Art's solo appearances will be listed here as well.
2022 High Water Appearances
Feb. 20 United Way Bluegrass Benefit, Barrymore Theater, Madison, WI
Apr. 23 Heroes Musicales, Wild Rose, WI
Apr. 23 Ladies of Bluegrass Festival, Green Bay, WI
May 20-22 SEMBA Bluegrass Festival, Houston, MN
May 25 The Show Boat Saloon, Wisconsin Dells, WI
June 3 Concert at Town Center, Rome, Wisconsin! 7-9PM
June 10-11 4th Annual Bluegrass At The Lake, Wisconsin Rapids, WI
June 16 The Foragers at Cranberry Fest, McMillan Library, Wisc. Rapids, WI 7-9PM
June 23 Art Stevenson, Nate Cover & Friends Whitewater Music Hall Wausau 8PM
July 2 Three Lakes Center For The Arts, Three Lakes, WI
July 3 Willow Springs Garden, Wausau, WI 7:30 PM
July 9 Summer Concert Series, Witwen, WI
July 16 The BoogieDown Music Fest, Yuba, WI
July 21 Summer Concert Series, Phillips, WI
Aug. 10 Pittsville Community Concert Series, 6-9PM, Pittsville, WI - Art solo show
Aug. 13-14 Shawano Folk Festival, Shawano, WI
Aug. 25-27 12th Annual Bluegrass In The Pines Festival, Rosholt, WI
Sept. 3 Art Stevenson & The Foragers at Jackpine Jamboree, Birnamwood, WI
Sept. 4 Art Stevenson with The New Hope Hay Balers at Jackpine Jamboree
Sept. 22 Art Stevenson, Nate Cover & Friends Whitewater Music Hall Wausau 8PM
Sept. 25 Chris Silver & Art Stevenson, Junior's, River Falls, WI 3-6PM
Sept. 30 Art Stevenson & The Foragers, Private Party, Stevens Point, WI
Nov. 5 Bluegrass Sampler Festival, Racine, WI