Art Stevenson
and High Water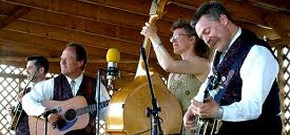 Email us for more information on show dates and schedules, or call 715-884-6996.
2016 High Water Appearances___________________________________
Jan 30 Central Waters Brewing, Amherst, WI 18th Birthday Party

Feb. 11 Private Event, UW-Stevens Point, WI
Feb. 12-13 Swamp-N-Grass, Elkhart Lake, WI
Mar. 18-19 Southern Ohio Indoor Bluegrass Fest, Wilmington, OH

Mar. 27 Mosinee United Methodist Easter Service, Mosinee, WI, 9 AM
Apr. 9 River Falls Bluegrass & Roots Music Festival, Junior's, River Falls, WI 8PM
Apr. 16-17 Cabin Fever Bluegrass Festival, Duluth, MN
Apr. 30 Heroes Musicales, Wild Rose, WI
May 7 Performing Arts Center, Pittsville, WI 7:30 PM
June 7 Alan Munde Concert with Art & Stephanie Stevenson, The Brink Lounge,
Madison, WI 7PM

June 10-11 Northwoods Bluegrass Festival, Ladysmith, WI
June 16 Art Stevenson solo - Merle Haggard Tribute, High Noon Saloon, Madison WI
June 17 The Nelsonville Mill, Nelsonville, WI 7PM
June 23-24 Flatrock Bluegrass Jamboree, Marion, WI
June 25 Crazy Horse Campground Bluegrass Fest, Ashland, IL
July 3 Independence Day Festival, Willow Springs Garden, Wausau, WI 5PM
July 9 Three Lakes Center For The Arts, Three Lakes, WI Tickets
available Spring 2016.
July 15 Wilson Center For The Arts Starry Nights Concert, Brookfield, WI 6:30PM
July 17 Peg Egan PAC, Egg Harbor, WI 7PM
July 20 Art Stevenson co-host on Bill Malone's Back To The Country
WORT FM 89.9, Madison, WI 9:00 AM
Aug. 4 Thursday Night On Main, Iola, WI 6PM

Aug. 5 Sugar Maple Traditional Music Festival, Madison, WI
Aug. 6 A Slice of Bluegrass, Lockport, IL
Aug. 20 Gandy Dancer Festival, Mazomanie, WI
Aug. 25-27 7th Annual Bluegrass In The Pines, Rosholt, WI
Sept. 18 Harvest Fest, Woodstock, IL
Sept. 23-24 Threshermen's Bluegrass Fest, Pontiac, IL
Oct. 8 Private party, Rhinelander, WI
2017 Appearances
May 13 Performing Arts Center, Pittsville, WI

June 9-10 Northwoods Bluegrass Festival, Ladysmith, WI
July 2 Independence Day Festival, Willow Springs Garden, Wausau, WI
July 29-30 Backbone Bluegrass Festival, Strawberry Point, IA
Aug 24-26 Bluegrass In The Pines Festival, Rosholt, WI