Art Stevenson
and High Water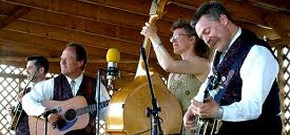 Email us for more information on show dates and schedules, or call 715-884-6996.
2013 High Water Appearances___________________________________
Jan 26 Central Waters Brewing, Amherst, WI
Feb 8-9 Swamp N Grass, Elkhart Lake, WI
Mar 2 Klondike Days, Eagle River, WI
Mar 15-16 Southern Ohio Indoor Music Festival, at the Roberts Center, Wilmington, OH
April 20 6th Annual Red Cross Heroes Benefit, Sandhill Estate, Wild Rose,WI. Call 920-622-3152 for reservations.
May 11 Performing Arts Center, Pittsville, WI 7:30 PM
June 2 Art & Stephanie Stevenson with Alan Munde, Brink Lounge, Madison, WI 6PM
June 7-8 Northwoods Bluegrass Festival, Ladysmith, WI
June 26 Art Stevenson co-hosts "Back To The Country" on WORT, Madison WI, 9AM
June 28-29 FlatRock Music Festival, Crivitz, WI
July 12-13 Viroqua Bluegrass and Gospel Festival, Viroqua, WI
July 20 Karner Blue Butterfly Festival, Black River Falls, WI 7:30PM
Aug. 7 Art Stevenson co-hosts "Back To The Country" on WORT, Madison WI, 9AM
Aug. 8-9 Minnesota Bluegrass & Old Time Music Festival, Richmond, MN
Aug. 19 Art Stevenson special guest on "On Point" WWSP 90FM Stevens Point 4PM
Aug 23-24 4thAnnual Bluegrass In The Pines, Rosholt Fair Park, Rosholt, WI

Aug. 31-Sept. 1 Tri State Bluegrass Festival, Kendallville, IN
Sept. 7 Private Wedding, Portage, WI
Nov 9-10 Greater Downstate Indoor Bluegrass Festival, Springfield, IL
Dec. 31 Bernard's, Stevens Point, WI
2014 High Water Appearances___________________________________
Jan 25 Central Waters Brewing, Amherst, WI 16th Birthday Party
Feb. 7-8 Swamp N Grass, Elkhart Lake, WI
Apr 4-5 Spring String Gathering, Baraboo, WI
May 10 Performing Arts Center, Pittsville, WI 7:30 PM
June 13-14 Northwoods Bluegrass Festival, Ladysmith, WI
June 21 Charlotte Bluegrass Festival, Charlotte, MI
July 4-5 PEI Bluegrass and Old Time Music Festival, Rollo Bay, PEI
July 11-12 Viroqua Bluegrass & Gospel Fest, Viroqua, WI
July 19 Acoustic Fest, Manitowoc, WI
Aug. 15-16 SEMBA Bluegrass Festival, Houston, MN
Aug. 22-23 5th Annual Bluegrass In The Pines, Rosholt, WI
Oct 11 Private event, Nelsonville, WI
Dec. 4 McMillan Library Concert Series, Wisconsin Rapids, WI