Art Stevenson
and High Water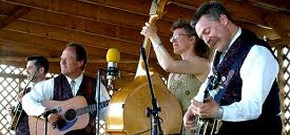 Email us for more information on show dates and schedules, or call 715-884-6996.
2015 High Water Appearances___________________________________
Jan 24 Central Waters Brewing, Amherst, WI 17th Birthday Party

Feb. 13-14 Swamp-N-Grass, Elkhart Lake, WI
Feb. 19 Private show, UW-Stevens Point, WI
April 9 Portage County Democratic Party Fundraiser, Smiley's, Plover, WI 6:30PM
Apr. 11 River Falls Bluegrass Festival, River Falls, WI
May 9 Performing Arts Center, Pittsville, WI 7:30 PM
June 12-13 Northwoods Bluegrass Festival, Ladysmith, WI
June 26 Rising Star Mill, Nelsonville, WI 7PM $10 admission
June 27 Crazy Horse Campground Bluegrass Fest, Ashland, IL
July 11-12 High Mountain Hay Fever Bluegrass Festival, Westcliffe, CO
July 18 Gunny Grass Festival, Gunnison, CO
July 23 Thursday Night On Main, Iola, WI 6PM
July 24 Private event, Cranmoor, WI
July 25 Private event, Luck, WI
July 31 House concert, Madison, WI 7:30PM $15 Call 608-233-0150 or email nancy@blue-note.com
Aug. 1 Private event, Madison, WI
Aug. 8 Concerts In The Clouds, Rib Mt. State Park, Wausau, WI 6 PM
Aug. 13-15 Larryfest, Vernon County, WI
Aug. 27-29 6th Annual Bluegrass In The Pines, Rosholt, WI

Sept. 5-6 Tri-State Bluegrass Festival, Kendallville, IN
Sept. 12 Bluegrass Jamboree, Cedarburg Cultural Center, Cedarburg, WI
Sept. 19 Private event, Pittsville, WI
Oct. 3 Private event, Cashton, WI
Oct. 4 Peace Lutheran Church, Amherst, WI: 9:00 AM Service
Oct. 4 Nelsonville Lutheran Church, Nelsonville, WI: 10:30 AM Service
Oct. 10 Private event, Rhinelander, WI
Oct. 17 Bluegrass Bash, Bear Lake Resort, Manawa, WI
Dec. 31 New Year's Eve Party, Bernard's County Inn, Stevens Point, WI
with Sloppy Joe and Horseshoes & Hand Grenades!

2016 High Water Appearances___________________________________
Jan 30 Central Waters Brewing, Amherst, WI 18th Birthday Party

Feb. 12-13 Swamp-N-Grass, Elkhart Lake, WI
Mar. 18-19 Southern Ohio Indoor Bluegrass Fest, Wilmington, OH

Apr. 30 Heroes Musicales, Wild Rose, WI
May 7 Performing Arts Center, Pittsville, WI 7:30 PM
June 10-11 Northwoods Bluegrass Festival, Ladysmith, WI
June 23-24 Flatrock Bluegrass Jamboree, Marion, WI
June 25 Crazy Horse Campground Bluegrass Fest, Ashland, IL
July 9 Three Lakes Center For The Arts, Three Lakes, WI
Aug. 4 Thursday Night On Main, Iola, WI 6PM

Aug. 6 A Slice of Bluegrass, Lockport, IL
Aug. 25-27 7th Annual Bluegrass In The Pines, Rosholt, WI
Sept. 23-24 Threshermen's Bluegrass Fest, Pontiac, IL