ART STEVENSON & HIGH WATER
Great Bluegrass Music
"Art Stevenson IS Bluegrass in Wisconsin!" --WPR Wisconsin Life

Read the article about Art Stevenson on the Wisconsin Public Radio website!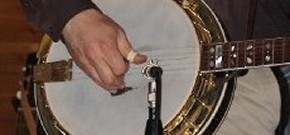 Email us for more information on show dates and schedules, or call 715-884-6996.
2023 High Water Appearances
2023 marks 30 years in the music business for Art Stevenson & High Water!
Here is the current list of 2023 shows...Art's solo appearances will be listed here as well.
2023 High Water Appearances
Jan. 28 Central Waters Brewing, Amherst, WI (Sold out!)
Apr. 22 Ladies of Bluegrass Festival, Green Bay, WI
Mar. 4 MBOTMA Winter Weekend, Crowne Plaza, Plymouth, MN
Mar. 17 Brew City Barn Burner, Linneman's Riverwest Inn, Milwaukee, WI
Apr. 22 14th Annual Ladies of Bluegrass Festival, Howard, WI
May 6 Pittsville Area Foundation For The Arts Concert, Pittsville, WI
June 9 5th Annual Bluegrass At The Lake, Wisconsin Rapids, WI
June 10 Summer Concert Series, Big Bay, MI
June 23-24 Flatrock Music Festival, Armstrong Creek, WI
June 30 Riverfront Rendezvous, Stevens Point, WI 6-10PM
July 2 Willow Springs Garden, Wausau, WI 7:30 PM
July 15 NIBA Festival, Sandwich, IL
Aug. 4 Concert at Town Center, Rome, Wisconsin! 7-9PM
Aug. 5 Wedding, Appleton, WI
Aug. 12-13 Shawano Folk Festival, Shawano, WI
Aug. 18 LarryFest, LaFarge, WI
Aug. 19 Gandy Dancer Bluegrass Fest, Mazomanie, WI
Aug. 24-26 14th Annual Bluegrass In The Pines Festival, Rosholt, WI
Sep. 8-9 Bluegrass Festival, Cameron, WI
Nov. 4 Bluegrass Sampler Festival, Racine, WI